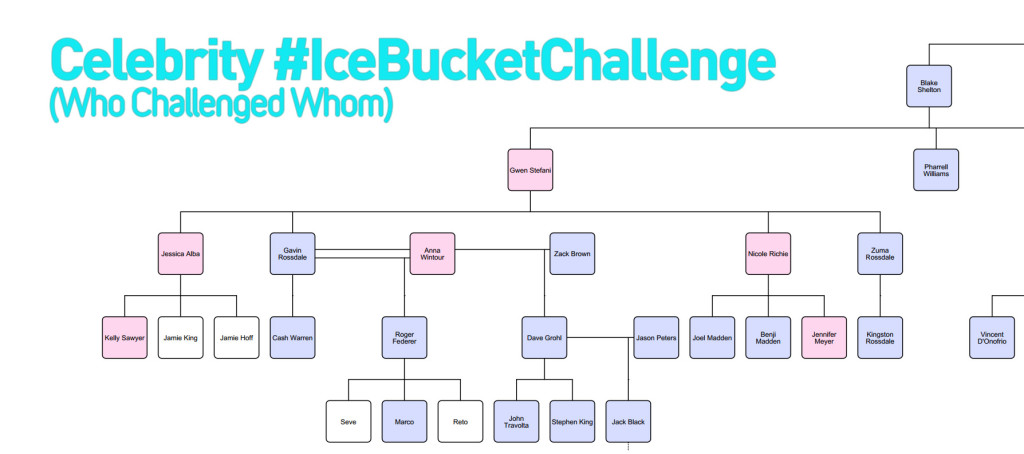 I watched my first celebrity video of the Ice Bucket Challenge for ALS charity. It was Gwen Stefani dumping water over Gavin Rossdale, Jessica Alba, & Nicole Richie. I was curious about the spread, particularly amongst the famous set. It is quite a who's who of Hollywood and beyond. There are actors, musicians, politicians, athletes, (edit: authors too, thanks to Stephen King) and complete randoms all connected by this clever campaign to raise awareness for this terrible disease. #StrikeOutALS
I couldn't help but make a family tree of this celebrity web. Who doesn't love a good chart for this kind of thing, right? Celebrity #IceBucketChallenge: Who Challenged Whom.
A few notes about how I chose to set it up:
The parent is the nominator, the children are the nominees. In some cases a person did the challenge but acknowledged a different nominator, in which case I added that person as another parent. (In the case where there were a bunch of people nominating the same person, I just went with who I chose as the most notable.)
This particular tree, started with Gwen and went back through Cody Gifford (Kathie-Lee's son) to Kevin Roundtree, who may be some sort of sports person with minimal googling. (I couldn't find his challenge, so it stops there for now.) Other celebrity trees would probably tie into this one as duplicate nominators, I'm just waiting to see if I need to start another tree or if they'll link together somehow. (The website limits how wide the tree can go, but I'd love to know who got Anna Wintour to do it!)
Some people did the challenge with another person, in which case, I added the second person as a partner.
As it spreads, more people will nominate people who have already done it. (Mark Ruffalo was the first multiple nominee, I believe.) So I'll put their names in again, but mark them as dead which gives their text a more greyed out appearance.
If you click on the person's name and then go to the contact tab on the left, I have put a link to their video. Have to copy and paste, unfortunately.
I find the whole phenomenon quite fascinating, especially when it comes to the peer pressure behind it. Will Pharrell do it or won't he?