Time to concentrate a bit on the table. I wanted my table to reflect Sweden a bit, and to me nothing is more Swedish than Swedish fish! But alas, they are hard to come by in Australia.
I had a little budget to pick up some things from Ikea, but it would be easy to use them as inspiration and make your own. I've also made up some menus and labels for the different dishes we're serving… inspired by Marianne Nilsson's "sill" design. These would work for any Swedish-themed party and not just Eurovision.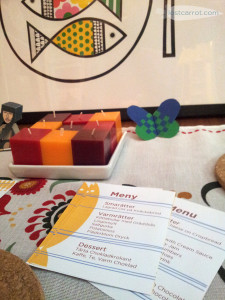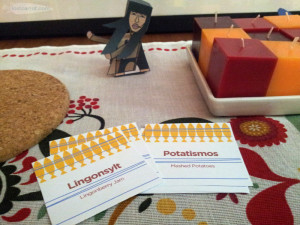 Swedish Food Labels (PDF) – My food labels are more of the herring (sill) pattern that I created. Again I put the Swedish name large on top of the lines and then put the English translation smaller underneath. The little stands I was going to use to hold these up by the food were a craft fail, so I'm back to the drawing board, but it would be easy to use the old binder clip stand solution. The first link is to the blank label file, but if you're doing the same menu as me (read: mostly Ikea food), you can also use my filled out cards (pdf).
Loreen Cubicon – a little figure in tribute to the girl who brought Eurovision to Sweden.